Green Group Services wants to see your property maintained inside and out. You can have a beautiful well kept interior, but the exterior of your property means a lot to potential tenants and customers. Additionally, your employees will enjoy taking a break and seeing a well-maintained and lush garden.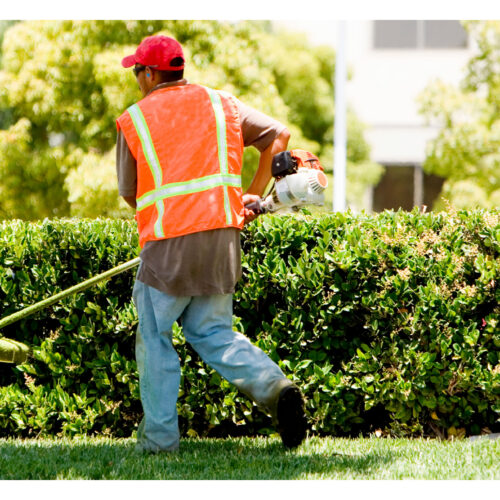 Gardening & Landscape Services in Los Angeles
A beautiful landscape can transform your property in its ambiance. At Green Group, we keep your landscape maintained and ready for presentation. That includes mowing lawns, pruning trees and plants, evaluating and cutting back hedges/trees, or developing entirely new landscapes. We're here to help weekly, monthly, or just a one-time makeover.
Routine gardening visits include, but are not limited to:
Lawn Mowing
Debris Removal
Lawn Fertilization and Mulching
Hedges and Trees Shaped
Seasonal Irrigation Adjustments
Seasonal Fertilization and Pruning
One-time brush removal
Gutter Cleaning
Weed Control
and more
These general duties will go a long way in maintaining and responsibly growing your next gardening project for your commercial building or residential building.
Landscape Design
Green Group has also been in the landscape design business, just as long as we have been gardening. Often clients don't know how to make their garden areas look appealing, so we have assisted with small to medium landscape projects from design, development, and maintenance. Often our clients in Los Angeles are looking for ways to save on water. We have undertaken projects that included complete brush removal and installation of water-saving landscapes.
Design, Build, Maintain
To cultivate a dream garden, we meet with our clients for an initial consultation and site visit, a thorough proposal, and an ongoing maintenance plan for the designed landscape.
Our Landscape Developments Include:
In-Person Consultation and Estimate Delivery
Removal and Hauling of Unwanted Plants & Trees
Irrigation Set-Up or Fixing
Implementation of design
Contact Green Group Services Today
We're always glad to talk to folks about how we can provide janitorial solutions. For a free estimate or to learn more, you can reach us through the contact from.
Check for service availability in your area
Studio City
North Hollywood
Toluca Lake
Sherman Oaks
Van Nuys
Encino
Culver City
Hollywood
Los Feliz
Downtown Los Angeles
Mid City
Century City
West Los Angeles
Mar Vista
Beverlywood
Valley Village
Lake Balboa
Palms
Pico – Robertson
Miracle Mile
Wilshire Center
La Brea
Universal City
Melrose
Carthay Circle
Greater Wilshire / Hancock Park
Glendale
Silver Lake