Commercial Pressure-Washing
As a family company that has made a home in Los Angeles for the past 40 years, we know how dirty our streets and public areas can be, including parks, parking garages, and sidewalks. In some areas such as Downtown Los Angeles, it becomes a hazard to smell and walk through those streets because of foot traffic, people using exteriors as public restrooms, and general build-up of bacteria. These areas are breeding grounds for bacteria and diseases, but you can be confident that our streets will be kept clean with our industrial-grade high-pressure washing system.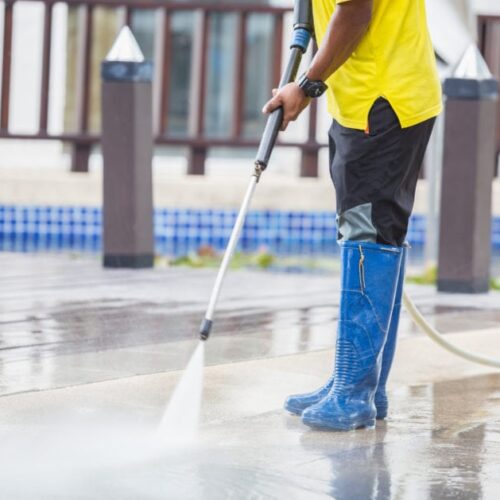 Commercial Pressure-Washing Services in Los Angeles
Areas that can be pressure-washed:
Driveways
Parking Garages
Outdoor Staircases
Sidewalks
Courtyards & Backyards
Concrete Walls & Building Exteriors
Roofs
and more
Other uses of hiring our company for commercial pressure-washing:
Sanitization
Airborne contaminants can end up can be harmful. For example, mold spores can lead to asthma-like symptoms when inhaled. Power washing gets rid of mold, algae, and other contaminants, never giving them a chance to grow.
Preparing for a Project
Have you ever painted over something dirty? Prepare your next painting project or new construction with pressure-washing to remove dirt and grime for your contractors to work on something fresh.
Prepare for an Event
Have you scouted the perfect outdoor space to host your next event? But maybe some freshen-up can give it that extra curb appeal. You won't believe how much pressure-washing can uplift the look of your space and prepare it for your guests.
Let us help you keep your employees,
customers, and tenants safe by hiring us for recurring pressure-washing. Our clients who hire us are offered a special discount. Let Green Group Services go above and beyond for our city and maintain the healthiness of everyone around your property.
Contact Green Group Services Today
We're always glad to talk to folks about how we can provide janitorial solutions. For a free estimate or to learn more, you can reach us through the contact from.
Check for service availability in your area
Studio City
North Hollywood
Toluca Lake
Sherman Oaks
Van Nuys
Encino
Culver City
Hollywood
Los Feliz
Downtown Los Angeles
Mid City
Century City
West Los Angeles
Mar Vista
Beverlywood
Valley Village
Lake Balboa
Palms
Pico – Robertson
Miracle Mile
Wilshire Center
La Brea
Universal City
Melrose
Carthay Circle
Greater Wilshire / Hancock Park
Glendale
Silver Lake